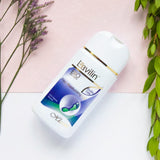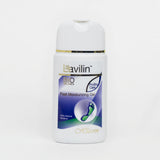 Foot Moisturizing Gel
Product Weight: 100 g
Product Description 
Lavilin's Foot Moisturizing Gel stays in the green with an overall EWG score of 2 (and no single ingredient scoring higher than a 3). Through a high concentration of balanced, naturally-derived ingredients—such as aloe vera, hyaluronic acid and Pine Silvestris extract—this powerful hydration enhancer provides maximum moisturization to help soften and elasticize skin, while preventing the formation of cracks and fissures on your feet. Perfect for healing and preventing dry, cracked heels this winter season, and keep feet soft and smooth all year long! Notable features include:
Prevents cracks and fissures
Powerful hydration enhancer
Softens and elasticizes skin
100% natural moisture
Tested in leading international research facilities
Product Ingredients
Deionized Water, Pinus Silvestris Leaf Extract, Aloe Barbadensis Leaf Extract, Glycerin (Herbal), Propanediol, Carbomer, Sodium Hyaluronate, Lactose, Milk Protein, Bifida Ferment Lysate,Sodium Hydroxide, Chlorophillin Cu complex.